DELIOS exhibited at the Food & HotelAsia2016 in Singapore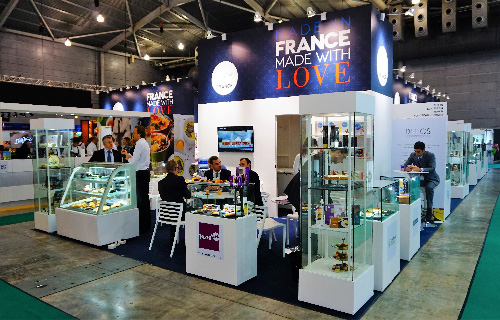 From the 12th to the 15th of April 2016, DELIOS exhibited a 30m2 booth under the French Pavilion (stand 6D1-08) at the HotelAsia2016, the 20th International Exhibition of Food and Drinks, representing five core French fine food brands: Isigny Ste-Mere, Loc Maria, Mag'm, Michel Cluizel and Pomone Foucteau.
The event was an occasion for our brands to feature an extensive selection of products and new launches to our partners in Asia-Pacific, from dairy products (Isigny Ste-Mere cream, AOP butter & cheeses) to couverture and specialities chocolates (Michel Cluizel), classic macarons, fondant macarons, mini eclairs and pastries (Mag'm), fruit tarts and fondant chocolate cakes (Pomone Foucteau) as well as sweet and savoury biscuits (Loc Maria: Gavottes & Traou Mad).
The Food & HotelAsia2016, together with five other specialized events, forms the largest and most comprehensive trade show located at the gateway of a thriving Asia, and is widely regarded as Asia's most established exhibition of its kind.
FHA Key Figures:
95 000m2, 56 Pavilions
81 French producers under the French Pavilion
2,900+ exhibitors from 64 countries/ regions
74,000+ visitors
500+ conference speakers and delegates
Find out more about Food & HotelAsia2016: www.foodnhotelasia.com
Download the overview map:http://www.foodnhotelasia.com/downloads/FHA2016_OverviewMap.pdf