Pomone-Foucteau exhibited at the Foodex 2016 in Tokyo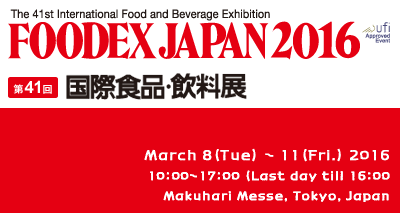 From the 8th to the 11th of March, the Pomone-Foucteau company exhibited a stand under the French Pavillon (Hall 5 – Block 5C03) at the 41st edition of the International Food and Beverage Exhibition in Tokyo.
Pomone-Foucteau is a French family business specialized in the growing of fruit tree since 1890 and production of high-quality frozen desserts since 1992. Pomone-Foucteau offers a comprehensive range of products for food service to meet the needs of all types of catering (restaurants, hotels, pastry chains, bakery, cafes, etc.) which includes multiportion tarts (pre-sliced or whole), individual desserts as well as petits four. It also provides desserts specially dedicated to in-store bakery and retail. Please come and visit us to discover and try Pomone-Foucteau's products.
Foodex facts & figures (2015)
3,000 exhibitors from 79 Countries & Regions
3,700 booths
75,000 visitors (trade professionals)
Co-sponsored by 46 trade associations
Find out more on the Foodex
http://www.jma.or.jp/foodex/en/
Download the map